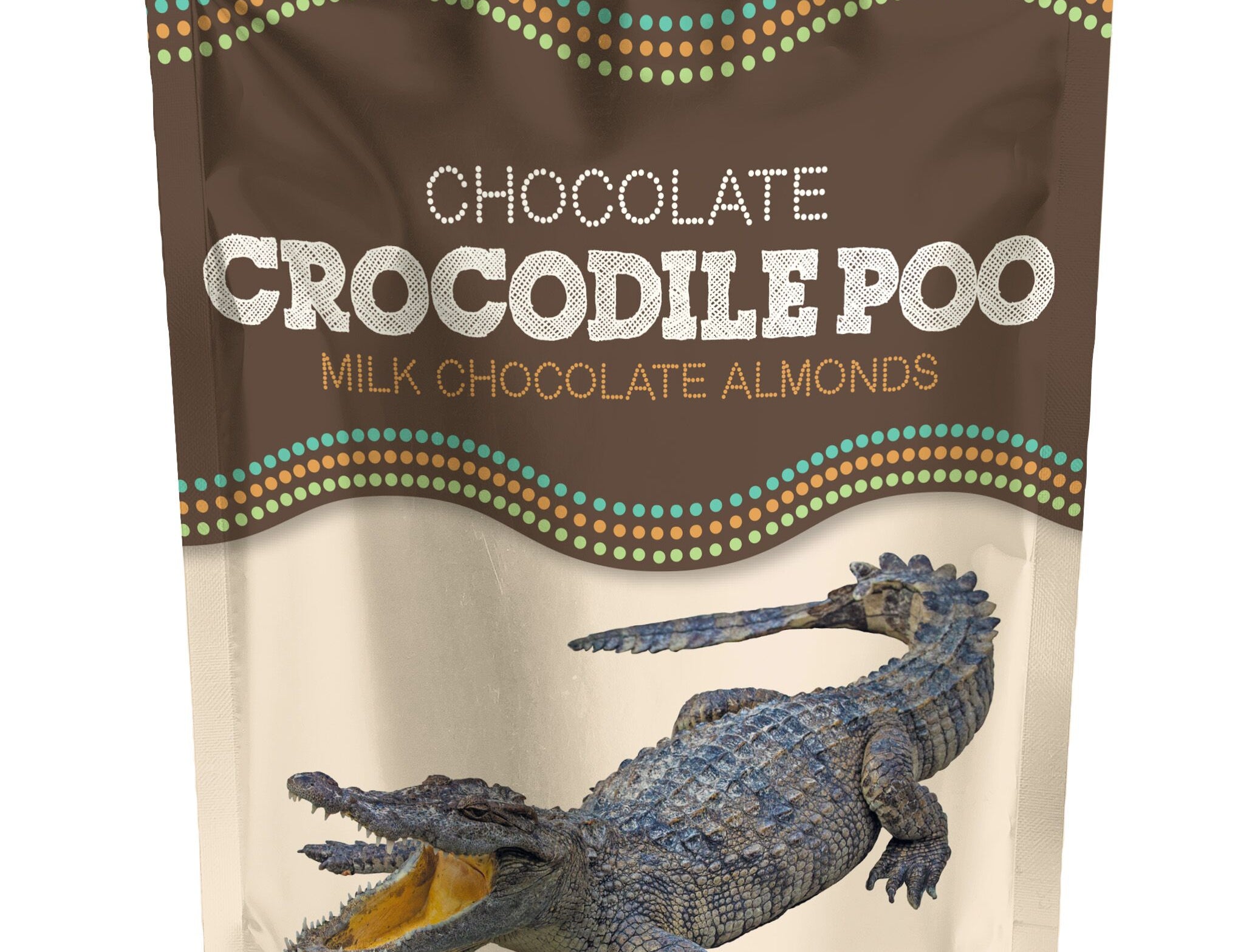 Crocodile Poo (Milk Chocolate Almonds) - 150g
Description

Ingredients

Product Info
Our Crocodile Poo is a taste sensation! It looks like a miniature version of croc poo, feels like croc poo, but certainly doesn't taste like it. In fact, they are chocolate almonds covered in premium Belgian milk chocolate and mate, they are divine!
What a yummy, true blue Australian souvenir!
Chocolate crocodile poo is a unique Australian souvenir gift and will be sure to delight any adult or child.
Disclaimer: this product does not contain any real poo, but it does look like the real thing!
Interesting Facts  
The saltwater crocodile is the largest living reptile and has the strongest bite of any animal in the world.
It lives in the northern tropical parts of Australia.
Their poo size is much larger than what could fit in this bag so we decided to give you a tastier, miniature sized version of crocodile poo.
Nutritional Information Table
Servings per packet:

 

6
Servings size:

 

25g
 
Per 25g
Per 100g
Energy
604kJ
2,416kJ
Protein
2.5g
9.9g
Fat - Total
10.0g
40.3g
Fat - Saturated
4.8g
19.1g
Carbohydrates - Total
10.9g
43.6g
Sugars
10.0g
39.9g
Sodium
33mg
132mg
Ingredients: Premium milk chocolate 80% (sugar (41.5%), cocoa butter (24.5%), full cream milk powder (22%), cocoa mass (11.5%), emulsifier: soya lecithin (<1%), natural vanilla flavouring (<1%)), roasted almonds 20%.
Allergy Advice: This product contains dairy, soy and tree nuts.
Storage Instructions: Store in a cool, dry place and keep sealed after opening. Store below 25°C.
Gluten free. No artificial colours, flavours or preservatives.
A product of Australia using imported ingredients.
---
Free shipping on orders over $100
Crocodile Poo (Milk Chocolate Almonds) - 150g
Packing, Shipping and Returns
Packing Orders for Dispatch
Most of our chocolates will be dispatched 1-3 days after the order is placed. Our products are packed using an insulated liner and an ice brick. Whilst we take the upmost care when packing orders, we cannot take responsibility for conditions which may affect our products that are outside of our control (extreme heat, shipping service disruptions, etc).
Shipping
Orders are shipped using either a courier or Australia Post. A flat rate, Australia wide standard shipping fee of $14.95 will be applied. There is also an express option for $25. Shipping is free if the order is over $100.
Returns
Due to the nature of our products, we do not offer a refund / exchange for a change in mind. If your chocolates are not of satisfactory quality (does not include heat damaged items), or are not as ordered, then please contact us as soon as possible to discuss options. These could include a refund or exchange.